Founder & Chairman
Word of Welcome
Education adds value and quality to a life and this has been the endeavor of St. John's P.G. College as an educational institute. Located in the suburbs of the city of Hyderabad, St. John's P.G. College offers students to pursue their academic courses in a serene environment.
Today, the city of Hyderabad has become the hub of modern technology and an opening for several career opportunities. Therefore, people love to call it "the Second Capital City of India". Although, Hyderabad is more than 400 years old, you find a right amalgamation of old and new cultures. Being a friendly and livable city, it has become a destination for tens and thousands of students from all over the world. And to aspiring students, Hyderabad is home to one of the oldest and finest universities, famously known as the Osmania University.
St. John's P.G. College is affiliated to Osmania University and approved by the All India Counsel for Technical Education (AICTE), Govt. of India.
As for the ambience, of St. John's P.G College, it is situated in the city outskirts in the beauty of nature, with lush green surroundings, palm trees, mango grooves and rice fields. Away, from the buzzing noise, pollution and city traffic! Indeed, a student will love to learn in such an amicable and nature-friendly, atmosphere.
St. John's P.G. College is equipped with well qualified, professional team of committed professors and with their rich experience and proficiency; they are working towards building, outstanding students and citizens for our nation.
It has been our consistent effort, to realize the single objective of; Achieving academic excellence in education and to ensure that our students receive the best possible opportunity to develop their skills, enabling them to climb up to the top of the ladder in their chosen professions, and to reach to their full potential with confidence and ease.
We seek to help and promote students of different backgrounds and cultures to realize their dreams and ambitions. We invite all aspiring students to join St. John's P.G. College, where one can lay a strong foundation to excel in their life to the maximum.
Thank you.
Bishop John Gollapalli
Chairman
St. John's P.G. College
Rev. Dr. John Gollapalli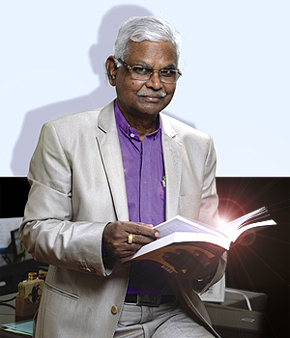 Rt. Rev. Dr. John Gollapalli, Bishop of the Free Methodist Church of South India, is the Founder and Chairman of C.O.U.N.T. and Chairman of "ST.JOHN'S" institutions.

He has been deservingly encircling the lime light ever since his entry into the Church field. He is an orator and a gifted speaker. He has travelled widely all over the world. He is the recipient of many National and International awards.